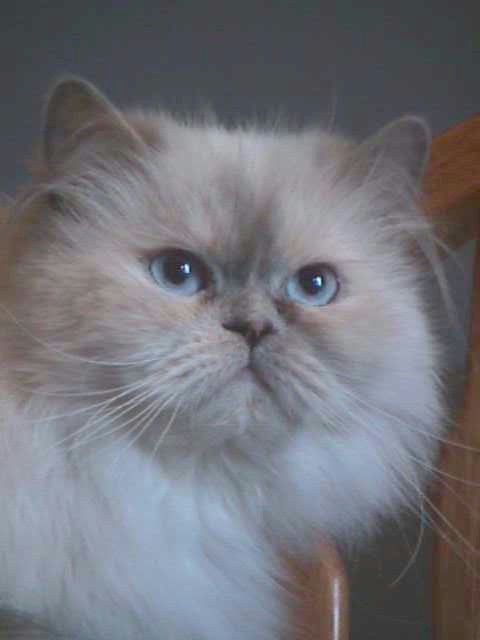 SnowQueen's Ice Crystal
Blue Cream Point Himalayan
Crystal is the first breeding cat that I purchased and she has a special place in our family. Crystal has produced Blue Points, Blue Cream Points, Flame Points and Lilac Points. Although she would not be considered "show material", because of her longer nose, she does exhibit good bone with a compact, cobby body, short tail, and small ears. She has a sweet personality and does pass this trait on to her kittens. All of Crystal's kittens to date have been excellent pet quality kittens.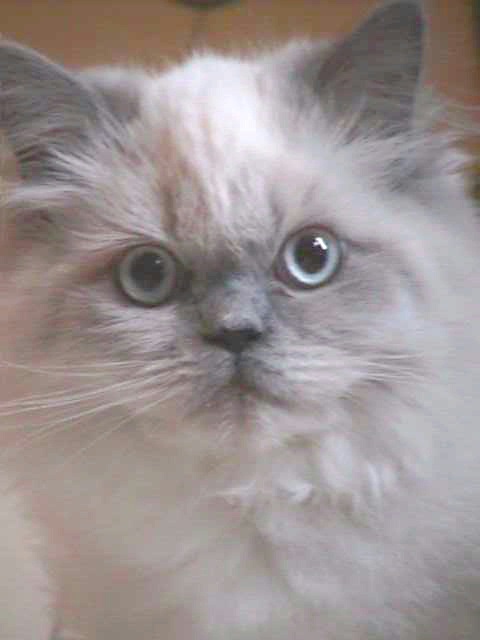 Blue Velvet of Capoor
Blue Point Himalayan
Velvet is a fairly recent addition to our family. She came to us when she was just 10 weeks old and we have come to love her very much. Velvet is a more traditional himalayan with a longer nose, large round, blue eyes, a short, cobby body and a lovely short, bushy tail. We plan to breed Velvet in the fall of 2000 and expect to get blue points and possibly flame points.
The Stud

The "dad" in the family is a beautiful Blue Point Himalayan named Bright Blue Bailey of Capoor. Bailey shows wonderful bone with a short, compact body, small ears and large round, clear blue eyes. So far he has thrown lovely kittens when paired with Crystal. I hope to include his picture in the very near future. (Remember this site is still under construction!)


Other breeding cats
Glorious Gretchan of Capoor is a Tortoiseshell Persian. (Picture to follow!) Gretchan (when paired with Bailey) has produced Seal Points, Tortie Points, solid black, solid cream, solid lilac, solid blue, blue tabby and red. She is a lovely cat with a sweet disposition who loves everybody. Her kittens resemble her in that they are sweet and loving with small ears, shorter nose, and thick coats.